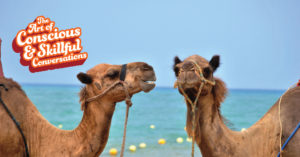 We are delighted to announce our newest course, "The Art of Conscious and Skillful Conversations"!
We've received very strong feedback that this was one of the most engaging and impactful training sessions people have experienced. Designed with best practices from neuroscience and adult learning, participants appreciated that it was highly interactive with roughly 80% practice, 10% peer input and coaching, and 10% instruction. Rather than one giant training with low transferability, the course is configured to your organization's agenda and culture and is designed over three modules:
a three hour foundational overview followed several weeks later by
a one hour session that deepens the knowledge and further develops the skills, and
a final one hour session several weeks after that.
Participants learn:
The communication skills necessary to develop psychological safety required for constructive, candid conversations
Interpersonal skills for explicitly designing work relationships that foster clarity of expectations, authentic relationships, and deliberate development.
Communication skills required to initiate and navigate direct conversations via skilled and conscious dialogue.
The ability to identify social threats and strategies to re-establish psychological safety
Participants leave each session with fieldwork to either prepare for challenging or high-impact conversations or actually have the conversations so there are immediate benefits to the participants and sponsors.
Sound interesting? Please connect with Brad Herbert at brad (at) adaptivetalent.co.