I am currently accepting applications for my new group coaching program for People & Culture Leaders through July 19th. We'll kick-off July 26th, collect 360 data in August and September, followed by group sessions beginning in late September.
Now more than ever it's time to help our P&C leaders take a step back and assess how they are leading a function that now has more expectations, and more pressure, then ever before. It's simply not enough to administer programs but to create a framework uniquely customised to your organisation's guiding principles, customers, and aspirational culture that is built for today's disruptive, interconnected, incredibly fast, and rich in potential operating environment.
Dave Ulrich recently wrote a blog piece about the limits of generative AI compared to humans. We both agree that while the technology is objectively amazing and rich in potential, it can often feel like getting a book report from an eight grader who may have relied on Wikipedia a bit too much. However, he did talk about the future of HR / People & Culture that deeply resonated with me, and in particular this section:
(1) "HR's future is not about HR but about creating value in the marketplace with key stakeholders. HR activities (like technology, DI, and employee experience) should be linked to the value they create for others.
(2) HR's future requires an integrated framework to organize all the disparate HR practices and tools. We have seen the evolution of HR from personnel (administrative work); to HR practices (array of HR tools); to human capital (focus on employee experience); to human capability, which includes HR tools and talent (human capital); and then also adds leadership and organization to the framework. Within this human capability framework are specific initiatives for HR, all of which can be aligned to stakeholder value.
(3) HR's future will require an ability to select which of the myriad of HR initiatives deliver value to a specific organization setting. We call this organization guidance system (OGS) and want to move beyond generic ideas to specific recommendations that deliver value (see www.rbl.ai). Prioritizing HR investments can increasingly be done through rigorous AI/NLP research that links HR investments to stakeholder value through analytics that determine the right choices.
(4) HR's future will lead to increased disclosure and dialogue with: investors to show them how human capability is material to their debt or equity investments and thus reduce their risk; customers to show them which human capabilities will ensure they have the right products and services; boards to help them deliver on financial and strategic goals; senior executives to help the crafting and delivery of strategic reinvention; employees to help them have a positive experience.
(5) HR's future lies in the creative genius of individuals who observe challenges not yet discussed and explore unique solutions to those challenges."
Here's the 2023 HR Competency Model: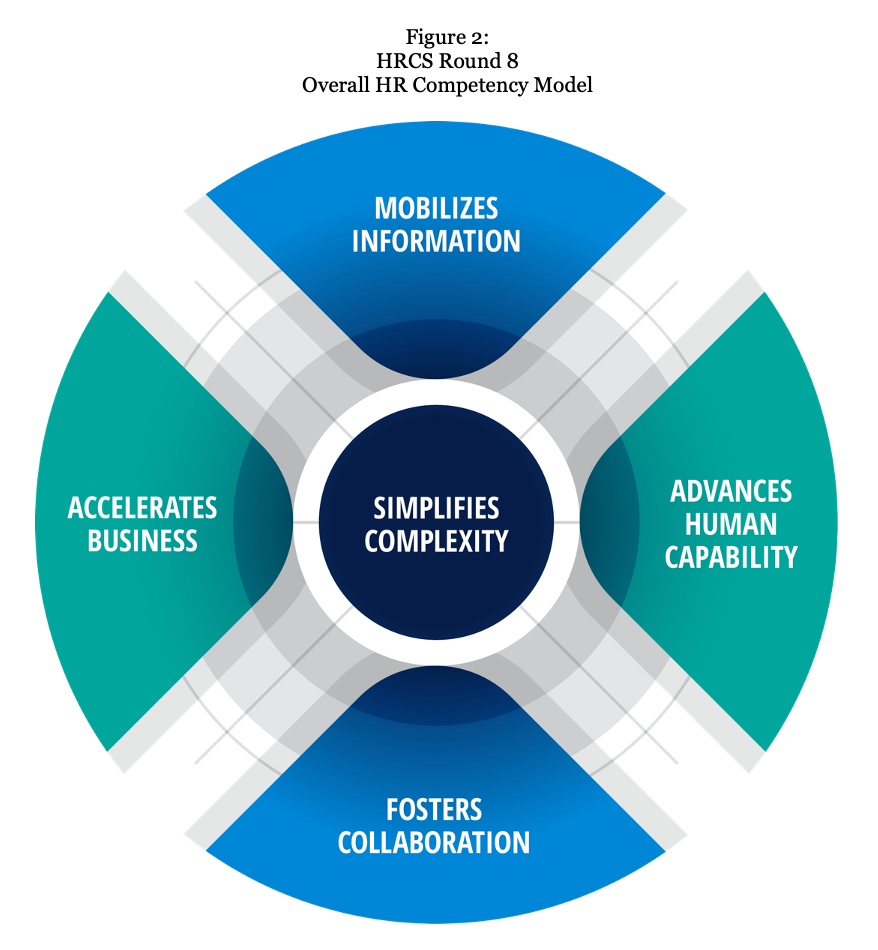 Since 2015 I've been advocating for P&C leaders to move beyond FY strategies and programs to something more customized that integrates the most important guiding principles and capabilities needed to help them achieve their purpose. All healthy systems (individuals, teams, couples, groups of people) have both differentiated parts and just the right amount of integration.
I don't think people know how to do this, and perhaps that's why we see generic cultures, people following the latest and greatest trends, and not objectively stepping back and designing / developing how a group of people can achieve key results aligned with their guiding principles. This becomes more important as generative AI and other technologies allows people to do more, with less, but the downside risks (much like social media contributed to mental health challenges and societal polarization) are large if not deployed consciously.
If you're ready to help improve business results without losing your heart-centred leadership culture, or to scale up your P&C team, or to thoughtfully approach generative AI please check out our Impact & Influence Forum page. We can have a no obligations video chat to see if we're a fit. Referrals greatly appreciated!