Leadership Development Programs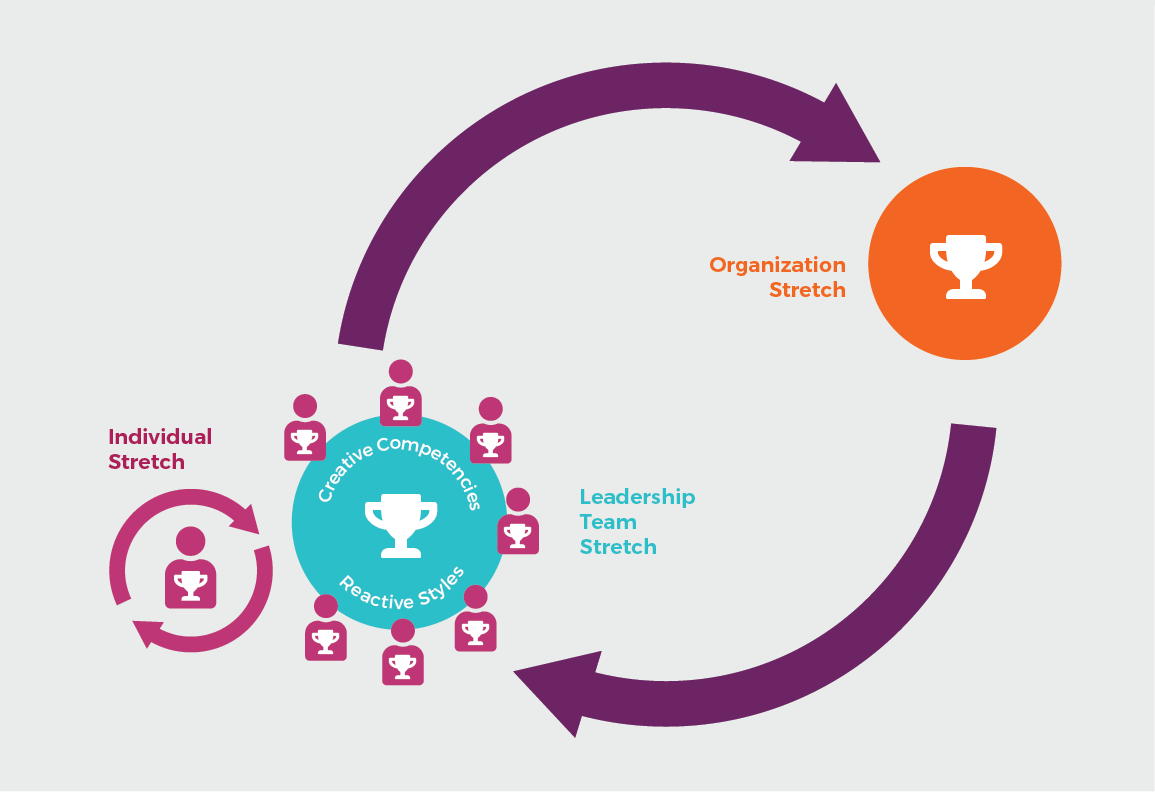 Our Adaptive Leadership Program (ALP)
The ALP is a cohort-based leadership and organizational development experience designed to regularly bring leaders together to work both "in the business" to achieve great results but also "on the business, culture, and themselves" growing awareness, developing skills, leading change, strengthening trust and teamwork, and developing your people, culture, and adaptability.
There has never been a time in human history where the need to both superbly execute and intentionally adapt been higher. Whether it's leveraging AI or disrupting your industry managing these complementary energies and practices is hard and requires greater leadership maturity and skills across your company, alignment, and agency.
Program Design
We start by helping the cohort clarify the most important things to be delivered, developed, or preserved at the company level, and the implications for the leadership team, functions, roles, key cross-functional capabilities, and of course the leaders themselves (a "stretch"). We do this because capacity is nested so it's essential to develop all layers of an organization coherently.
​The ALP becomes a tool for the participants to achieve their layers of stretch, supported by our experienced coaches. They facilitate high-impact conversations, experiments, insights, and accountability, and develop high-impact leadership skills. Participants should expect greater trust, candour, and conscious leadership capacity.  It can be easily customized for senior executives, cross-functional cohorts, functional leaders, or leads and managers.
Program Components
Data: Either via 360 Assessments, stakeholder interviews, FeedForward peer input, & mini-surveys participants can understand their leadership effectiveness and impact over time, including any relevant business KPIs. This helps us track your ROI. 
A leadership development plan aligned to business deliverables and a "Map of Mindset" to help leaders see their invisible drivers of habitual reactions that limit effectiveness and range, make them observable and testable, and develop greater conscious choice.
Sponsorship meetings between manager, participant, and coach to ensure alignment & support.
Facilitated offsites/monthly team check-ins, skill training (using the Leadership Circle System on topics like leadership, adult development, organizational development, & coaching), peer coaching, & accountability.
Optional 1:1 coaching
Can be delivered in-person and online
Please contact us to see how we can help you.
The first dysfunction is an absence of trust among people. Essentially, this stems from their unwillingness to be vulnerable within the group. People who are not genuinely open with one another about their mistakes and weaknesses make it impossible to build a foundation for trust.
Patrick Lencioni
"Brad has a special ability to make you feel welcome, safe and listened to. That natural ability combined with his empathy, candour, and experience make him an effective executive coach. He provided me with guidance and insights about my leadership during our years of hypergrowth and later helped me find my purpose. I'm always, always happy to recommend him."
"I am incredibly grateful for the opportunity I had to work with Brad. He has an uncanny instinct for sniffing out opportunities for insight and growth. If you're navigating a challenge in your career, or just looking for ways to unlock new opportunities, he can help. He reshaped my relationship with work and professional growth, and made me laugh until my cheeks hurt more than once in the process."