I am a big fan of the Leadership Circle's Universal model of leadership and the 360 assessments for individuals and leadership teams. It's simple, but very deep and a creative stance in life has never been more important to one's ability to adapt. Could there be a better shared experience to teach the absolute urgency and importance of developing the consciousness and capabilities of you and your team than a multi-year pandemic, geopolitical strife, and a host of political and social challenges that all impact organizational life? Organizational culture and redesigning how work is done, and implementing new tools (and a whole lot of powerful technologies) to be more responsive and adaptable are all combining and putting a huge spotlight on the benefits of proactive investment.

The Leadership Circle compared 360 responses from 2019, 2020, and 2021 to compare data and see if a pandemic changed how raters assessed leadership. Respondents were also given an additional survey and noted insights (above) and key improvements to their leadership (below).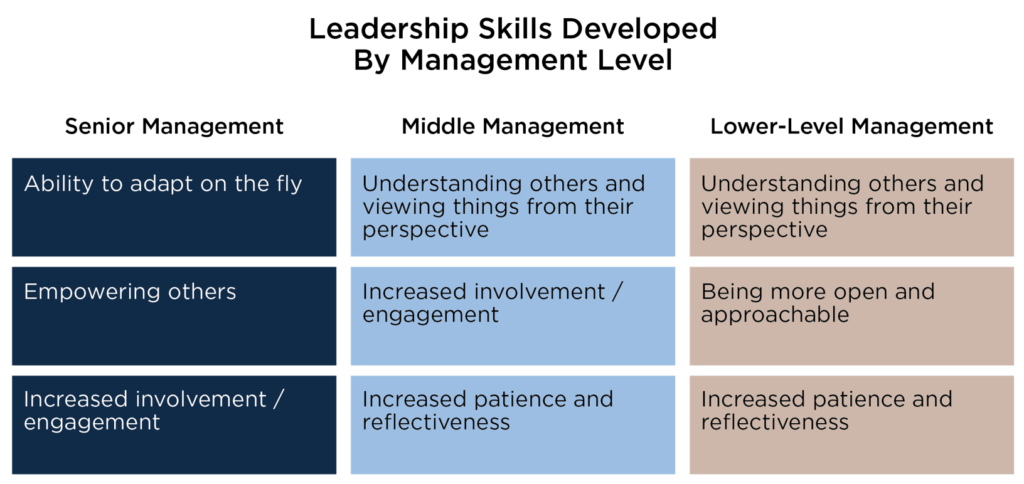 Read the whole article, but this does not surprise me. I've also noted how exhausted people are, and how important it is to be clear eyed about one's capacity and how fast / how far to push your teams given that everyone is tired and the outside "noise" does impact you psychologically and physically. This is actually a great time for leadership teams to engage in group coaching to help develop the organization, themselves, and their people in a coordinated, sustainable way. It's not enough anymore to just work "in the business" and respond to the day to day because the world is changing around you so quickly that you must invest in both execution AND adaptability and group coaching is a time efficient, results-focused, very cost effective way of making leaders' lives somewhat easier and definitely more enjoyable.
Image credit and thanks to Eugene Golovesov